Have you ever wondered where the stories behind songs come from? I do, all the time. Sometimes I even stop and wonder where the hell my stories come from. People must think that my love life mostly sucks and I keep breaking up every other year… 😃 Luckily I don't.
But I can definitely tell you the story behind our new, or actually not-so-new song 'Save Us'. But I'll start by asking you a question: does it sound like another band you might like or at least have listened to? It should.
Remember the awesome documentary series and album 'Sonic Highways' by the Foo Fighters? The series was on here in Finland in 2014 and I was like a sponge – soaking up everything Dave Grohl and the guys said and did. Why wouldn't I? I wanna be a fucking rockstar too. I wanna be a cool grown-ass motherfucker just like Dave. Ok, I don't have glasses, but I have a few checkered shirts. What else do I need? Maybe I'll let my hair grow and someday I might go really nuts and grow a beard. That should be more than enough.
But, how can I make awesome songs like Dave does? And then in one episode he said it: "write songs about things you know". Just like that. After that episode I suddenly had a melody in my head. Obviously, it sounded horribly close to something the Foo's might play, but I couldn't figure out what song I maybe just ripped off (and still can't).
But the funnier thing happened, when I literally looked around the room for ideas for the lyrics. My younger son, who was 4yo at the time, was playing "hockey" in our kitchen. He had a pesäpallo (Finnish baseball) glove on and was crawling on the floor while shooting a tennis ball at himself – trying to stop it from going into the small goal behind him. Make any sense to you? Me neither. But it was totally clear to him. All he ever wanted to do… And that was all he did back then. In the morning, in the afternoon, in the evening. He just wanted to be a goalie and make "whattasaves" – saves that change games and takes your team to overtime in The Stanley Cup Finals Game 7. Pretty much any goalie's dream since the since they started playing for Lord Stanley's Cup in 1893. Ok, they didn't always play best-of-7 series, but you get the point. 😉
So, there you have it. 'Save Us' tells the story of the daily routines of a 4yo hockey goalie. My son still plays hockey, only not as goalie anymore. But he remembers the wild games he played in our kitchen and so do I. And our neighbors. Sorry about that!
Now go put 'Save Us' on, close your eyes and listen to the words. Can you imagine that little goalie?
https://bit.ly/CrimsonicSaveUs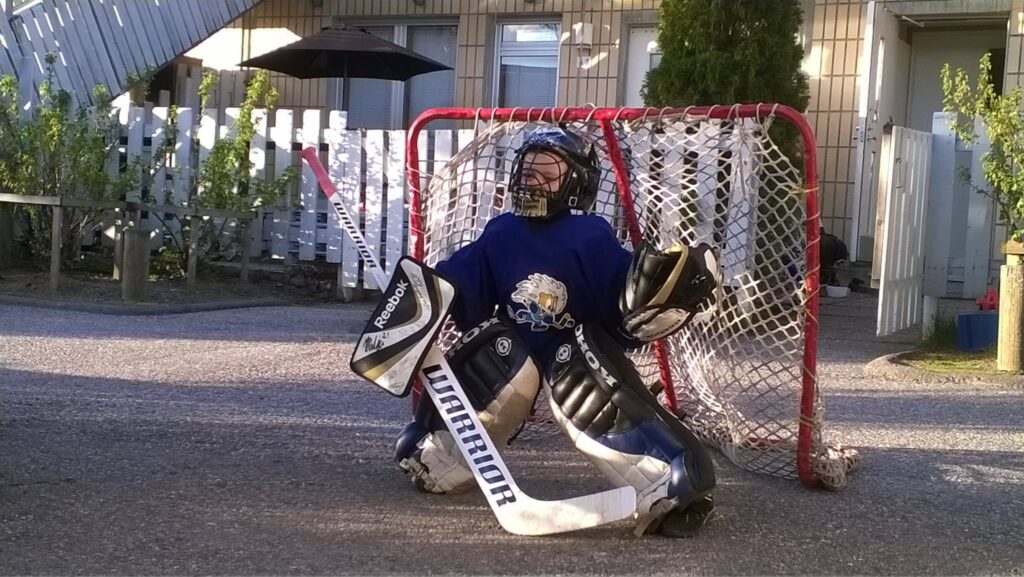 -Turre
PS. 'Save Us' was played at T-Mobile Arena in Visit Las Vegas, when Vegas Golden Knights hosted the Colorado Avalanche on Feb 16th, right after VGK goalie Marc-André Fleury made a save in the second period. We have DJ Joe Green to thank for this – kiitos!
PPS. You've done well and made us proud, dear little goalie song. ❤